Cryptocurrencies are highly unregulated and volatile
CBDCS VS CRYPTOCURRENCIES
The emergence of CBDCs coincides with a spike in the popularity of cryptocurrencies such as Bitcoin, Ethereum, Dogecoin and Tether. Cryptocurrency is a form of digital currency which is privately controlled and exchanged via blockchain technology which prevents the tracing of transactions. Unlike crypto, which is purely private, digital currency wallets and transactions will be recorded in a ledger by the central authorities, thus giving central banks custodial responsibilities for issuing and managing them. Many governments are apprehensive about the decentralised and private nature of crypto and have therefore started exploring CBDCs. CBDCs are seen to offer a balance between the convenience of cryptos and the authority and stability of central regulation.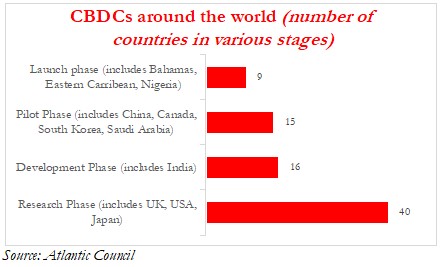 Over 100 million Indians have jumped aboard the crypto bandwagon…
…raising alarm in policy circles
Digital rupees offer many advantages
WHY INDIA WANTS TO INTRODUCE A CBDC
There are no reliable figures for the usage of crypto currencies in India. Some media reports offered a figure of 100 million crypto owners but these have been categorically rejected by some industry players who estimate the real number is closer to 15-20 million. Yet another estimate claims the figure is 7.3% of the population but which also remains unverified. The 2021 Global Crypto Adoption Index, ranks India second in terms of usage among 154 countries, with the market growing by over 640% in the past year.
Many crypto investors are younger people from tier II and tier III cities, pushed by the pandemic to buy digital assets that are easier to purchase and offer potentially high returns. The introduction of CBDCs thus has the potential to steer transactions away from the private crypto market into the mainstream economy. It would also give a much-needed thrust to the Government of India's Digital India vision to make India a cashless economy.
Both the government and the RBI strongly oppose the use of cryptocurrencies, which, owing to their anonymity and lack of traceability, lend themselves to illegal transactions or even terror funding. Further, used in large volumes, cryptos would represent a parallel currency system, with the potential to undermine the central bank's hold over monetary policy.
In contrast, a digital rupee would have myriad advantages – for consumers, businesses and the government alike. Since it would mainly displace cash – as opposed to other forms of digital payment – its high liquidity and universal acceptability would bring down the costs and risks associated with printing, transporting, storing and distributing currency. For businesses, it could reduce cash-based settlement risk to some extent, while at a global level, it could enable cheap, real-time, cross-border remittances by doing away with intermediaries. The government has yet to release a technical framework for the CBDC but fintech companies like Razorpay and PayTM have welcomed the initiative.
A Case Study on China's CBDC Journey
Having launched a digital yuan in 2020, China is well ahead of other countries on this score. According to the People's Bank of China (PBoC), as of January 2022, the cumulative value of e-CNY in transactions had reached USD 13.68 billion (compared to USD 37 trillion traditional yuan), involving 261 million users and 8 million merchants. Additionally, over 10 million corporate e-CNY accounts have been created in the past 2 years. At the recently concluded Beijing Winter Olympics, over USD 300,000 was spent via digital yuan each day. In 2020, eCNY was distributed to the public via a lottery system. The PBoC and the Hong Kong Monetary Authority have now begun the second phase of testing cross-border digital yuan payments. Meanwhile, JD.com, a local e-commerce giant, recently announced its support for using e-CNY for online shopping and salary payments, while Huawei is integrating it with its digital pay system.
Digital Rupee would be a no-brainer for most digital-savvy Indians…
…but fence-sitters may not switch as easily
Getting them to shift would require a tight-wire act…
…and having to overcome many technical issues
THE DEVIL IN THE DETAILS
The real question, in a still-cash-dominated economy, is whether a Digital Rupee will drive fence-sitters to switch from physical to digital currency. Most digital-savvy Indians are comfortable with electronic payments, such as via a UPI interface, and such payments have grown at a 55% CAGR in the past five years. Every rupee transferred via UPI is backed by physical currency and every bank has its own UPI handle. However, a 'digital' rupee would be a legal tender by itself and hence, will not be backed by physical currency. Built on blockchain technology, it could be transferred from one wallet to another, just like any UPI transaction, but with the advantage of doing away with intermediaries while retaining the security and reliability that comes with blockchain transactions. It will be like transacting directly with the RBI and hence, would eliminate the counter party risk.
It is unclear whether and to what extent a CBDC will draw marginal users in, especially those who straddle the grey zone of the informal economy. What might discourage them is the possibility that their transactions (and therefore true income) will become visible to the government. Since all transactions would be captured and validated in a distributed ledger, the CBDC would increase the safety and security of transactions. On the other hand, it may erode anonymity/privacy and potentially give regulators access to troves of information. A robust framework around data collection and usage would therefore be required.
Equally, according to Gartner, 550 million Indians still use feature phones, and 845 million do not regularly use mobile banking or digital payments. Drawing them in will require the CBDC to meld technological and financial inclusion. Ensuring that the digital Rupee can be quickly and painlessly swapped for cash (with no questions asked) may become a necessary precondition for mass adoption. The rapid rollout of 5G networks could also help, increasing both smartphone and CBDC adoption, especially in remote areas.
Technical challenges, including scalability and cyber-security, could prove to be even bigger stumbling blocks. Blockchain consumes huge amounts of energy and computation power, and may run into issues once transaction volumes cross a certain threshold. Moreover, should the RBI or another agency become the node for all CBDC transactions, the risk of a single-point cyber-attack or other technical outage would multiply. Despites its obvious advantages, therefore, for the upcoming Digital Rupee, the devil will truly lie in the details.